"Biomacromolecules" dergisinde yayınlanan makaleler aşağıda listelenmiştir!
×
214

pH-Responsive Polymersome Microparticles as Smart Cyclodextrin-Releasing Agents
Antonino Puglisi, Ece Bayir, Suna Timur, Yusuf Yagci, Biomacromolecules, 2019
Year : 2019
202

Surface Modification with a Catechol Bearing Polypeptide and Sensing Applications
Eda Aydindogan, Emine Guler Celik, Dilek Odaci Demirkol, Shuhei Yamada, Takeshi Endo, Suna Timur, Yusuf Yagci, 2018, Biomacromolecules
Year : 2018
172

Poly(methacrylic acid) Coated Gold Nanoparticles: Functional Platforms for Theranostic Applications
Gokhan Yilmaz, Bilal Demir, Suna Timur, Remzi Becer, 2016, Biomacromolecules, 17, 2901–2911.

171

COMPLEX STRUCTURED FLUORESCENT POLYTHIOPHENE GRAFT COPOLYMER AS A VERSATILE TOOL FOR IMAGING, TARGETED DELIVERY OF PACLITAXEL, AND RADIOTHERAPY
Guler Emine; Akbulut Huseyin; Geyik, Caner; Yilmaz Tulay; GUMUS Z. Pinar; Barlas F. Baris; Ahan Recep; Odaci Demirkol Dilek; Yamada Shuhei; Endo Takeshi; Timur Suna; Yagci Yusuf, 2016, ACS, Biomacromolecules, 17 (7), 2399–2408.

101

From Invisible Structures of SWCNTs toward Fluorescent and Targeting Architectures for Cell Imaging

Didem Ag, Muharrem Seleci,Rebecca Bongartz, Mustafa Can, Seda Yurteri, Ioan Cianga, Frank Stahl, Suna Timur,Thomas Scheper and Yusuf Yagci, 2013, ACS Biomacromolecules, 14, 3532-3541.
Year : 2013
86

Non-ionic, Water Self-Dispersible "Hairy-Rod" Poly(p-phenylene)-g-poly(ethylene glycol) Copolymer/Carbon Nanotube Conjugates for Targeted Cell Imaging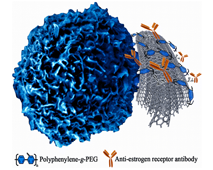 Merve YUKSEL, Demet COLAK, Mehriban AKIN,Ioan CIANGA, Manolya KUKUT,E. Ilker MEDINE, Mustafa CAN, Serhan SAKARYA, Perihan UNAK, Suna TIMUR, Yusuf YAGCI, 2012, Biomacromolecules, 13 (9), pp 2680–2691
Year : 2012